micro:Maqueen Plus - an Advanced STEM Education Robot for micro:bit
micro: Maqueen Plus is an advanced version of micro:Maqueen Lite (4.0), which is more powerful and intelligent. Optimized with better power management and larger capacity power supply, it can be perfectly compatible with HuskyLens AI Vision Sensor, which makes it an accessible AI robot teaching tool.
In addition, micro:Maqueen Plus comes with a larger and more stable chassis, more built-in functions and more expansion ports, it is not only suitable for classroom teaching, but also can be suitable for after-school extended exercises and robot competitions.
(Note: micro:bit board and batteries are not included.)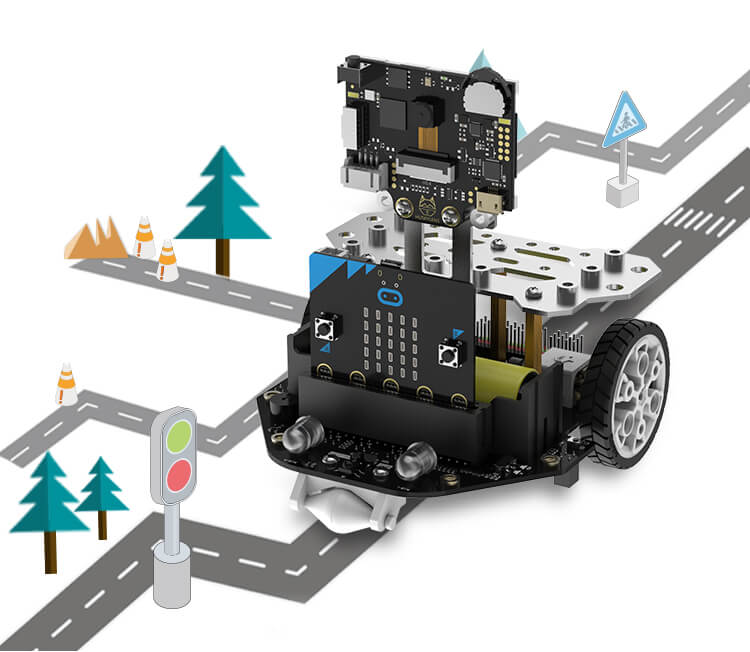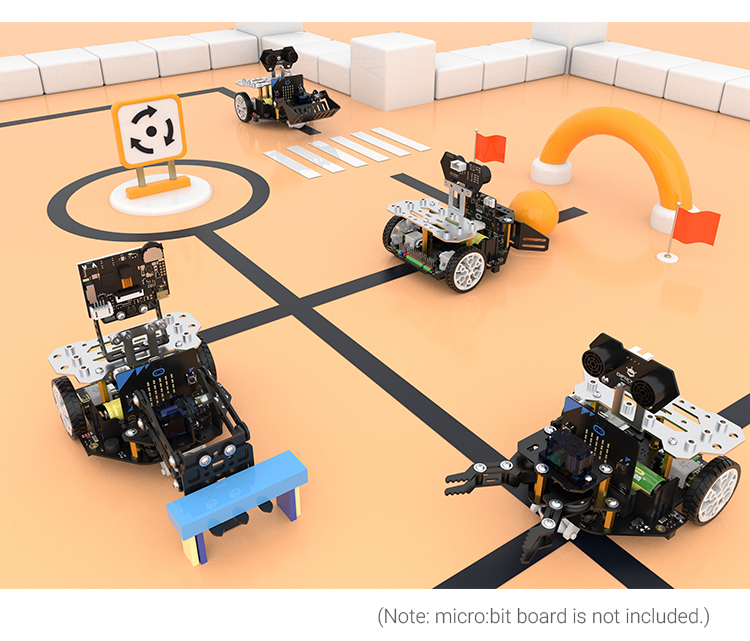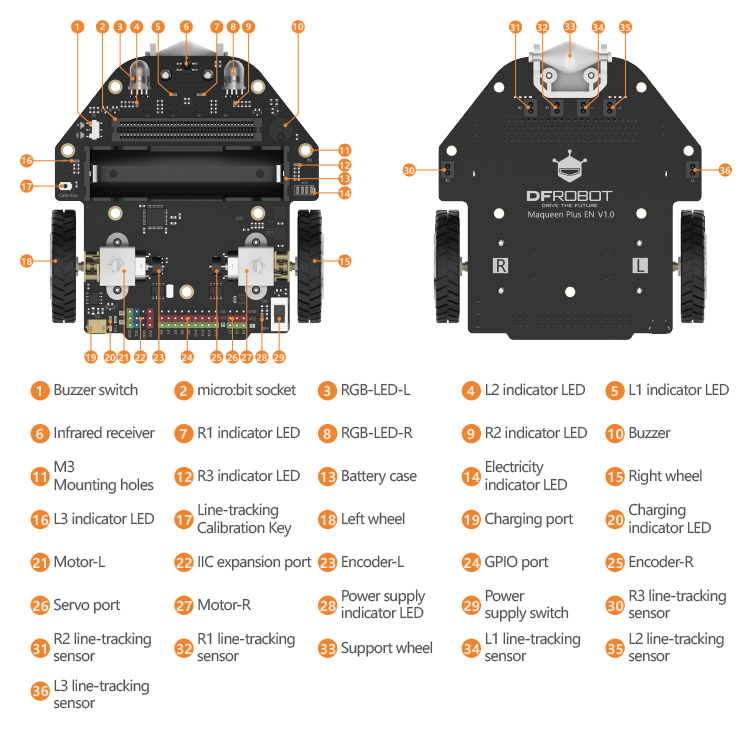 What is micro: Maqueen Series?
micro: Maqueen launched by DFRobot is a series of educational robot products for primary and secondary school programming. It includes a cost-effective "Lite"version, a powerful "Plus" version, and rich peripherals such as "Mechanic". You can choose different versions and peripherals based on your needs.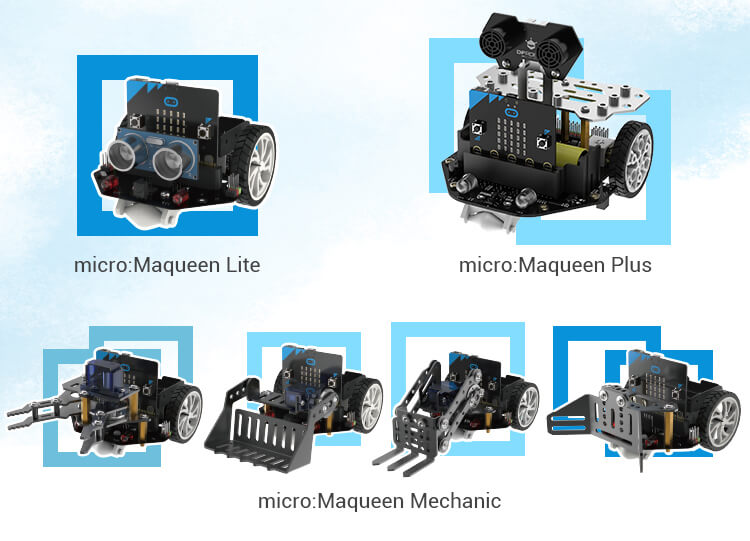 Selection Guide for micro:Maqueen series
Name

micro: Maqueen Lite

micro: Maqueen Plus

Power supply


3 AAA Batteries or CR123A Lithium battery

(600~800mA)

18650 Li-ion battery

(2300mA~2500mA)

Charging circuit

×

√

Power display

×

√

Encoder and PID control

×

√

Support for installing Huskylens AI camera

×

√

Support for line-tracking sensor calibration

√

√

Support for analog reading of line-tracking sensor

×

√

Number of line-tracking sensor

2
6
Number of IO expansion port
4
12
Number of servo port

2
3
Number of mechanic expansion thread

2
16
Motor rated rotation speed

133 rpm

260 rpm

LED color

Red LED

Large size RGB LED with 7 colors

Ultrasonic Model

H-SR04

DFRobot high-quality URM10 ultrasonic sensor

Continuous usage time with Huskylens

30min

180min

Standard continuous usage time

8h
24h
Come with line-tracking map

×

√

Onboard IR receiver and buzzer

√

√

Onboard WS2812 RGB LED

√

×

Application Scenario

Entry level classroom teaching

Intermediate level teaching, after school workshop, robot competition

What makes micro:Maqueen Plus so powerful?
High Capacity Lithium Battery
• Powered by18650 high capacity lithium battery.
• Onboard charging circuit and battery indicator.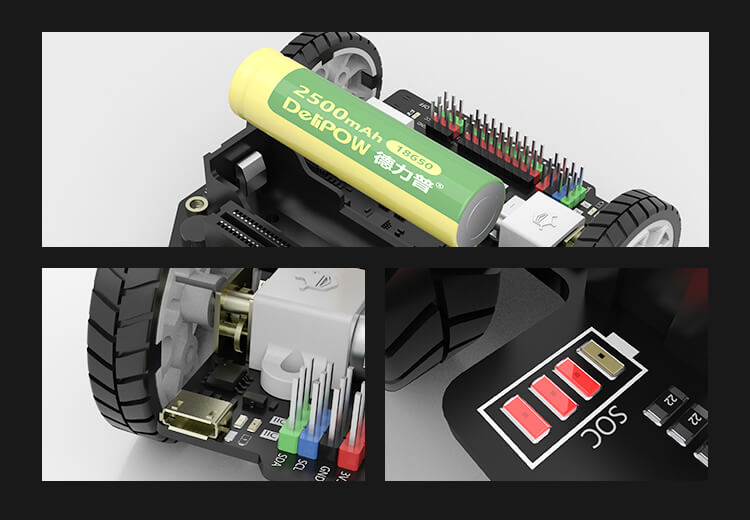 Competition-level Sensors
• 6 line tracking sensors to allow complex routine programs and complicated maze algorithms.
• Supports analog readings and sensor calibrations with only one key.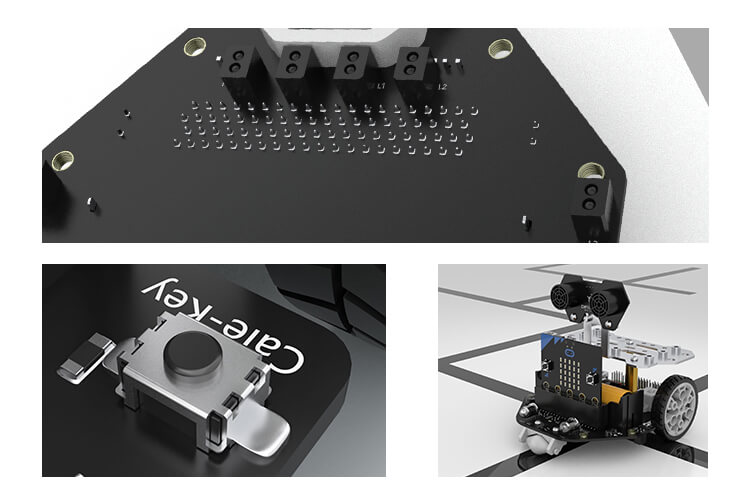 Rich Extension Interfaces
• 9 GPIO expansion ports, 3 I2C extension ports, 3 servo expansion ports.
• 12 M3 threaded connections.
• Fully compatible with micro: Maqueen Mechanic and HuskyLens AI vision sensor.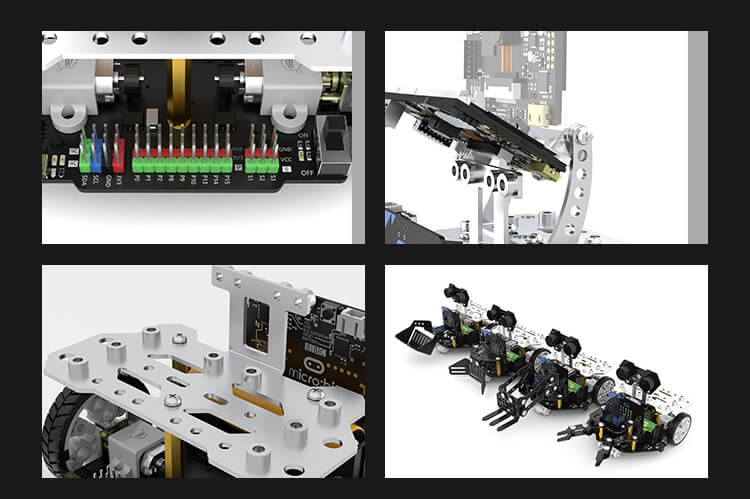 High Speed Metal Motor
• 260 RPM high speed metal motor; higher travel speed and well suitable for robot competitions.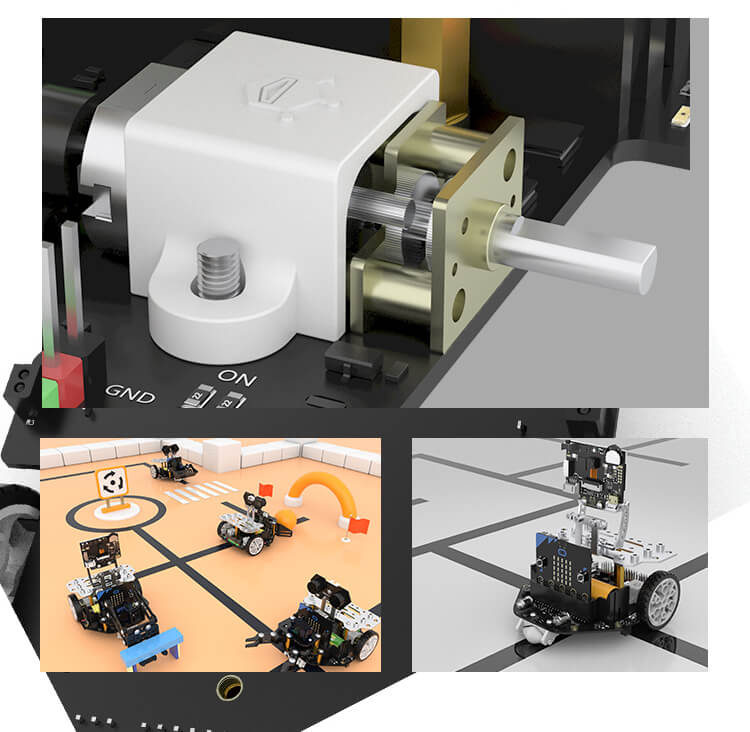 Motor with Encoder and PID Control
• 2 encoders to read real-time speed and direction, thus multiple cars running in the same map can be smoother.
• PID control for a stronger moment force in low speed.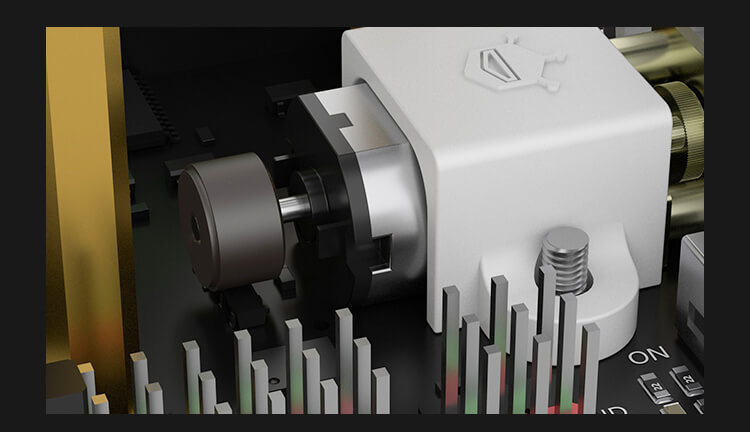 Abundant Configurations
• 2 large-size RGB LEDs, supports 6 colors displaying.
• Onboard infrared receiving sensor and buzzer.
• Free high-quality ultrasonic sensor, which performs better than SR04 version.
• One free line-tracking map for user-friendly experience.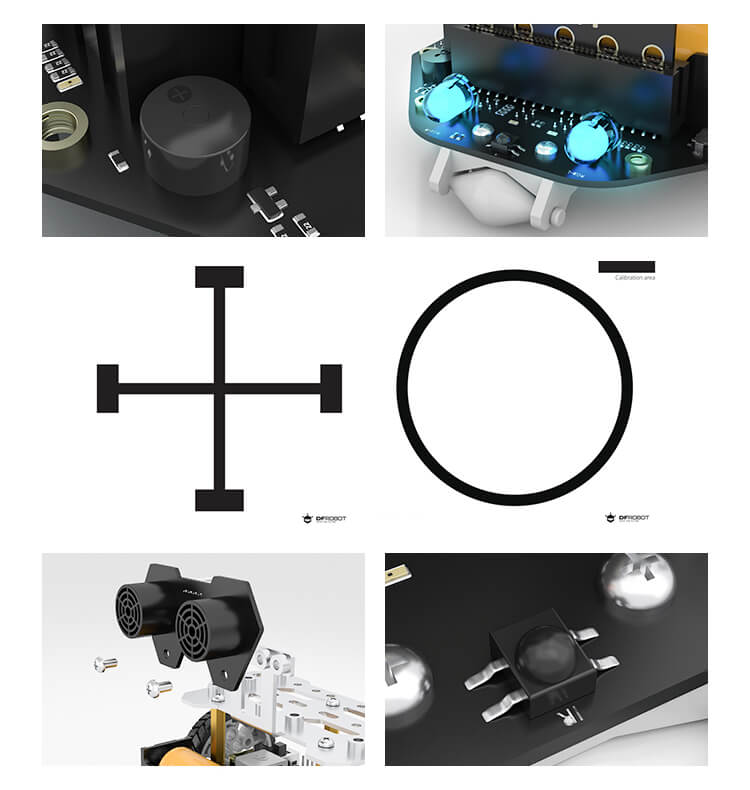 Large and Stable
A larger size and more stable chassis than micro: Maqueen Lite, which is available for combining with more accessories.
SPECIFICATION
Power Supply: 3.7V-18650 lithium battery
Charging Voltage: 5V
Charging Current: 900mACharging Time: 4h
Battery Indicator: 4 LEDs
Drive Motor: N20 motor 260 rpm
Buzzer * 1
RGB-LED * 2
GPIO Expansion Ports:P0 P1 P2 P8 P12 P13 P14 P15 P16
I2C Expansion Ports * 3
Servo Expansion Ports *3
Line Tracking Sensors *6
Line Tracking Sensor Output Data: analog + digital
Line Sensor Calibration: support
Infrared Receiving Sensor *1
Ultrasonic Sensor: URM10
Top Metal Plate * 1
M3 threaded connections *12
Map Size: 50cm*50cm
Dimension: 107x100mm/4.21 x3.94"
DOCUMENTS
SHIPPING LIST
Maqueen Plus *1 (micro:bit board and batteries are not included.)
Ultrasonic Sensor *1
Top Metal Plate * 1
Wheel *2
Copper Pillar *3
Instructions *1
Line-tracking Map *1