LTC3780 High Efficiency, Synchronous Buck Boost DC-DC Converter
The LTC3780 power module is a DC to DC Buck-Boost high power module that automatically adjusts the constant current and constant voltage settings. The module is suitable for battery charging operations.
This DC-DC switching buck-boost converter is capable of driving an 80Watt, 10A of load with excellent line and load regulation. As this is a buck-boost regulator the output voltage is independent of the input voltage. The input voltage ranges from 5-32V. It is recommended to use an input voltage of above 10V. The output voltage can be adjustable from 1V-30V DC.
The main switching component is LTC3780. The module provides under-voltage protection, thermal protection, short-circuit, or overcurrent protection. The user gets notified by a fault indicator and the under-voltage threshold, constant current and the output voltage is selectable using three potentiometers.
Pin Description of LTC3780 Power Module Board
| | |
| --- | --- |
| Pin Name | Description |
| IN+ | Positive input (Unregulated or Regulated) |
| IN- | Negative input (Ground) |
| OUT+ | Positive Output (Regulated) |
| OUT- | Negative Output (Ground) |
The pinout can be easily seen in the Board Legend.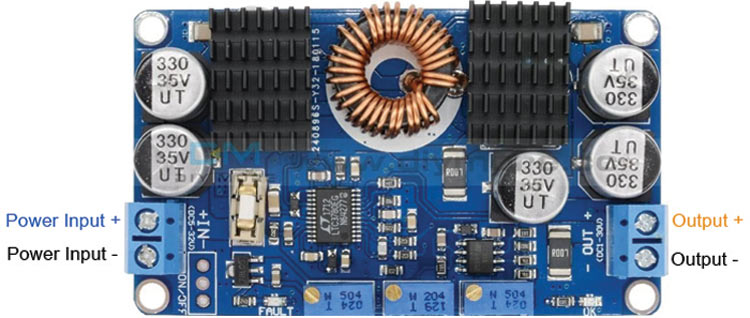 Features and Specifications of LTC3780 DC-DC Power Module
Note: Recommended voltage is above 10V
Output voltage: DC1V-30V (continuously adjustable)
Output current: 10A (MAX)
Note: Long-term usage within 7A
Output power: long-term 80W, peak 130W
Note: For more than 80W, please use a fan in a closed environment.
Output ripple: 50mV (12V to 12V, 5A measured)
Input reverse connection protection: None
Note: If required, please use the input Schottky diode.
Output anti-backflow: None.
Note: If required, please use the input Schottky diode.
The fuse of input can be changed to protect the power supply and equipment.
Fault indicator.
Power indicator.
Configurable Constant Current, Under Voltage lockdown, and Output Voltage via potentiometers.
Short circuit Protection: Yes
Weight about 45 grams
Dimension: 77.6 * 46.5 * 15mm
Note: Complete technical details can be found in the LTC3780 Datasheet linked at the bottom of this page.
Alternative Product of LTC3780 Based Power Module Board
Alternative and compatible products for LTC3780 based DC-DC Buck-Boost power module boards are listed below -
LM2596S based 3A rated DC-DC Buck-Boost module
XL6009 based 4A rated DC-DC Buck-Boost module
LTC3780 Power Module Board - Overview
The main driver is LTC3780.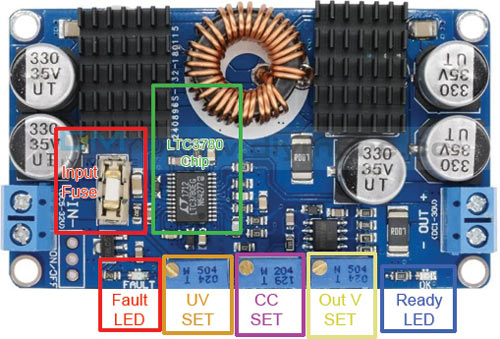 The LTC3780-Adj based DC-DC Buck-Boost module offers 7A of continuous load with a maximum of 10A load current from a 5 - 32V of the input voltage. The power module has three potentiometers to adjust the output voltage, constant current, and under-voltage lockdown threshold according to the user's needs. Although the module uses a PCB based and Aluminium extrusion heat sink, it is recommended to use a fan if the output power rating exceeds 80W in an enclosed environment.
The module has fuse protection to save the supply and the connected load during fault conditions. A fault notifier LED is also available on the board.
Interfacing Diagram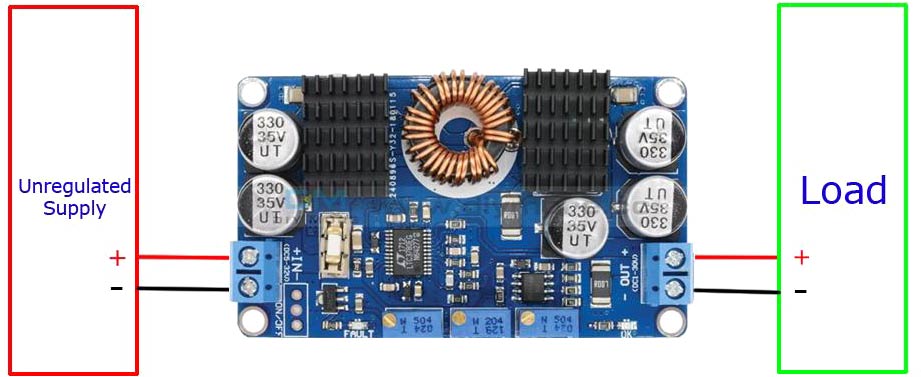 The interfacing of the LTC3780 module is quite easy. Connect the regulated or unregulated input across the IN+ and IN- pin of the input terminal block. Use the potentiometers to adjust the desired configuration. Connect the load directly across OUT+ and OUT- pins of the output terminal block.

Applications of LTC3780 Power Module Board
Lead-Acid battery charger circuit.
To serve the high power requirements of Audio-based circuits.
High current LED driver.
Small Bench power supply Unit
2D Model
The dimensions of the LTC3780 based Power Module Board is shown below-