BT151 SCR Thyristor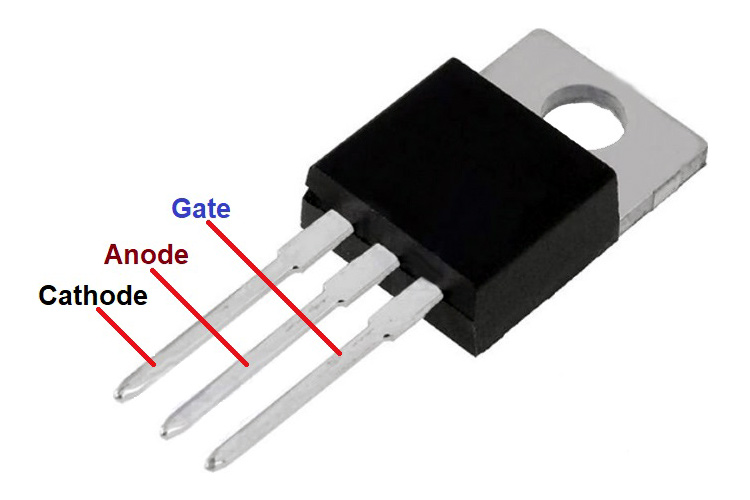 The BT151 is a medium power 12A silicon-controlled rectifier that comes in a TO-220 package that can be used to switch medium power AC/DC loads and can handle high DC pulses.
Pin configuration
| | | |
| --- | --- | --- |
| Pin number: | Pin name: | Pin description: |
| 1 | Cathode | Conventional current flows out of the cathode. |
| 2 | Anode | Conventional current flows into the anode. |
| 3 | Gate | Controls conduction between the anode and cathode. |
| 4 | Tab | Electrically connected to the anode. |
Features of BT151 SCR
Maximum anode-cathode voltage (off state): 800V
Maximum RMS current: 12A
Pulsed DC current: 120A
Gate trigger current: 15mA max.
Holding current: 20mA max.
Latching current: 40mA max.
Available in the TO-220AB package.
BT151 Equivalent SCRs: BT152, TYN208, 2N6508
Other SCRs: BTA16, BTB12600B, S6010
BT151 SCR Overview
The BT-151 is a medium power SCR used for power switching. SCRs are like transistors but have the ability to latch, i.e. stay on once triggered, even if the gate signal is removed. They stay in conduction till the anode-cathode current drops below a certain value called the holding current. SCRs in many ways behave like diodes with similar forward drops, hence the name 'controlled rectifier'.
How to use the BT-151 SCR
The BT-151 can be used as a rectifier to provide pulsed DC current to various appliances. Shown here in the figure below is a simple dimming circuit that controls the brightness of a lamp.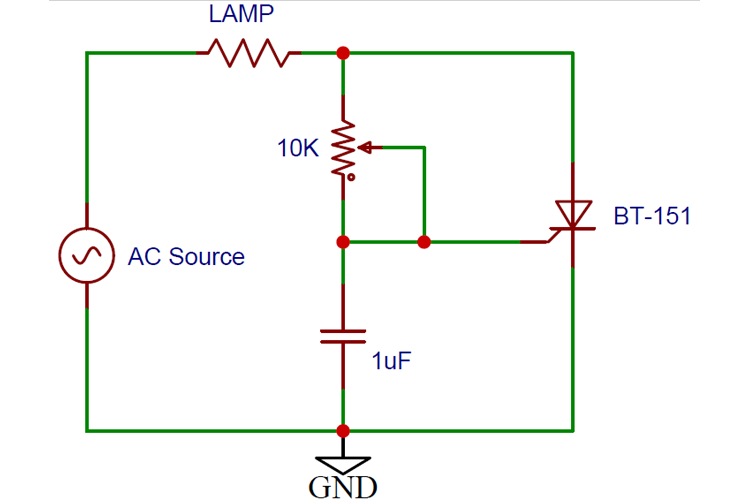 The 10K variable resistor and the 1uF capacitor act like an RC time delay, controlling how much of one AC half cycle is seen by the load. This way, the SCR acts as an efficient power controller.
Applications
Ignition circuits
Protection circuits
Motor control
Static switching